The Stinky Chef
For those of you who haven't yet heard, earlier this summer we were introduced to James Gingell.
James is a chef, owner of The Stinky Chef Deli Ramsbottom and business partner in the Tre Ciccio restaurant group. James and his team have had a pop up stall at the market and we're delighted they now want to continue with us every Saturday at Rawtenstall Market.
Stinky Saturdays!
Therefore, if you're a weekend shopper visiting Rawtenstall Market Hall on Saturdays you will find the finest but affordable Italian charcutterie and cold cuts, cheese, oils, rice, chef made sauces, preserves, tapinades, pasta, olives, sharing platters, delicious Italian sandwiches and very soon…Italian wines.
Passion For Food
The Stinky Chef Deli brings something new and exciting to Rawtenstall Market. James has extensive skill & knowledge plus a huge passion for food – the kind you only get from years of top class chef experience and travel. Within the restaurant hospitality industry he is recognised as being asomething of a legendary chef- although he's very approachable and modest!
To give you a little taster (see what i did there) here's one of his published recipes taken from  Italy Travel and Life.
Recipe
"Pepperoncino or diavolino (which translates as little devils) play a huge part in the food and dishes of the Abruzzo region. They give added warmth during the long cold winter months as well as a hidden kick of flavour in the sweltering summers.
The chillies are harvested in late August, then often strung together and hung triumphantly over doorways and balconies to dry in the early autumn sun. This has the purpose of intensifying their fiery heat, but it also adds a welcome blast of colour as summer fades, leaves fall from the trees and the nights draw iN. All of which gently mark the change of season.
The affluent regions of northern Italy refer to chilli as the "spice of the poor". Abruzzo, however, is geographically classed as central Italy, so I can only assume their snobbery refers to more southern regions like Calabria, where chilli plays an even bigger part in the day to day eating.
As the winds and snow descend in the later part of the year, apart from being a winter warmer, pepperoncini are also rumoured locally to have medicinal properties. 
Some clever marketeer has capitalised on these recommendations even more. On my last trip to Abruzzo I picked up a small jar of the fiery substance in oil, labelled as Viagra d'Abruzzo. Of course, I'm not sure this claim is necessarily true, but it makes a great souvenir for the visiting tourist.
During the autumn olive harvest in Abruzzo, the first presses of the fragrant oil are often infused with snippets of chilli. This is known locally as olio santo or holy oil.  Providing a glowing and blessed table accompaniment at mealtimes.
To experience the significance of this fundamental ingredient in the region's cuisine, try visiting the now world-famous chilli festival. Held in late August in the small town of Filetto in the province of Chieti, it is a must-see for anyone looking to learn more about our fiery friend.
It's often said that the simplest of dishes are often the best and the hardest to execute. The Abruzzi's simple pasta dish of spaghetti agile, olio e pepperoncino is a perfect example. Read on for my tips on delivering it right.
Spaghetti with garlic, chilli & olive oil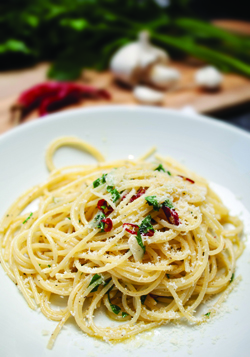 Spaghetti with garlic, chilli & olive oil
Spaghetti aglio, olio e pepperoncino
Serves 4 I Preparation 5 mins I Cooking 10 minutes
400g spaghetti
2 cloves of garlic, peeled and thinly sliced
Snippets of dry whole chilli with scissors (or ? tsp of dry red chilli flakes)
120ml good extra-virgin olive oil
1 tbsp flat parsley, roughly chopped
60g Parmesan, freshly grated
Salt and pepper
?………………………………………
Cook your pasta in salted boiling water as recommended by the cooking instructions on the packet.
In a deep frying pan, add olive oil and gently fry the sliced garlic and chilli, careful not
to burn the garlic as it will affect the taste
of the overall dish. I suggest you wait to do this until your pasta is cooked and draining.
Add the chopped parsley to your frying pan with garlic and chilli followed by your drained pasta. Toss all ingredients together thoroughly so that all the pasta is coated.
Season with salt and freshly ground black pepper. Divide evenly between 4 warm bowls and finish with a generous dusting of freshly grated Parmesan cheese.
Abruzzo Salsa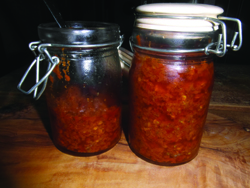 Abruzzo Salsa
Salsa all?Abruzzese
Serves 15 I Preparation 15 mins
This is my interpretation of 'Viagra di Abruzzo', not a medicine but a spicy concoction that serves as a condiment or addition to enhance pasta dishes, soups or stews. For a quick and easy lunchtime bite, add cooked plain pasta to a tablespoon of salsa in a saucepan, mix and finish with a sprinkle of Parmesan cheese. For those people with a high tolerance to spice you can always up the heat by adding extra chilli, I've been quite conservative but try it first as it still packs a punch. As long as your storage jars have been sterilized correctly and the salsa is kept in the fridge this will last for a few weeks.
What do you need
150ml extra-virgin olive oil
16 sun-dried tomatoes (pre-soaked in warm water)
6 anchovy fillets
2 tbsp dried chilli flakes (or 3 whole dried chillies)
2 tbsp capers
5 cloves of garlic, peeled
Add all the ingredients into a food blender and pulse to a paste. Serve with fresh breads."
And there you have it…
James Gingell, The Stinky Chef Deli, now at Rawtenstall Market every Saturday, YOU'RE WELCOME!
The Stinky Chef Deli is also located in the basement of the fabulous Tre Ciccio restaurant  Ramsbottom (tel 01706 497100) Tre Ciccio serves award winning  traditional authentic Neapolitan pizza, Italian roast chicken, antipasti dishes, breakfast, desserts & exciting specials